We subscribe to the NIBA Insurance Brokers Code of Practice (The Code).
The Code subscriber commitments are:
(a) We commit to act in accordance with the Code Principles when we:
(i) perform services for our clients;
(ii) engage with beneficiaries named in our client insurance policies;
(iii) engage with prospective clients, clients and their representatives;
(iv) interact with other insurance brokers, whether they are Code Subscribers or not;
(v) deal with insurers, insurer representatives (such as assessors, adjusters and experts) and other members of the insurance industry; and
(vi) respond to or assist regulators or other enforcement bodies and AFCA
(b) By adopting the Code, we acknowledge:
(i) we have entered into an agreement with NIBA to comply with the Code;
(ii) if a Code Subscriber breaches its obligations under the Code, the Insurance Broker Code Compliance Committee may impose sanctions on it as set out in Section 11 of the Code;
(iii) we may be sanctioned by NIBA, subject to applicable NIBA member rules and regulations and/or Code Subscriber membership rules that apply;
(iv) a Code Subscriber is in breach of the Code if its employees, representatives or agents breach the Code when they are acting on the Code Subscriber's behalf;
(v) that the Code is designed to work with the laws that cover Code Subscriber conduct and go beyond standards required at law. The Code does not and is not intended to limit a client's rights at law;
(vi) that there may be other codes that apply to services provided by a Code Subscriber (for example, the General Insurance Code of Practice). When other codes apply to services being performed by us, we will comply with the higher of the Code standards that apply in performing those specific services.
To obtain a copy of the Code, click here.
Austbrokers Terrace is also a member of the Australian Financial Complaints Authority (AFCA). As part of The Code obligations, we are committed to the fair, transparent and timely resolution of disputes. If you are unhappy with any of our services please lodge your complaint in writing or contact our complaints Manager – Rob Morrell. You can also lodge any alleged breach of the Code with us.
We will acknowledge your complaint in writing and genuinely attempt to resolve your complaint fairly and efficiently within 30 calendar days through our internal disputes resolution system.
Specific contact details are as follows:
Mr Rob Morrell
Austbrokers Terrace
Phone 08 8238 9200
Email robm@abterrace.com.au
We will keep you informed about how we handle your complaint and provide you with reasons for our decisions. If we require further information to determine or resolve your complaint, then we will inform you of this and agree with you an appropriate time frame, keeping you informed of the progress.
If your complaint cannot be resolved to your satisfaction within 30 calendar days, you have the right to refer the matter to the Australian Financial Complaints Authority (AFCA) for further consideration and/or review. AFCA is an ASIC-approved external dispute resolution service accessible to clients free of charge.
AFCA contact details are as follows: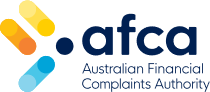 POST: GPO Box 3 MELBOURNE VIC 3001

PHONE: Toll Free: 1800 931 678

EMAIL: info@afca.org.au

An online complaint form is also available at the AFCA website at www.afca.org.au