We subscribe to the Insurance Brokers Code of Practice. The Code provides that brokers:
Act in the best interests of the client.
Provide advice and guidance to enable clients to make informed decisions on risk and insurance protection.
Provide full and accurate information for effective underwriting.
Respect the client's confidentiality in relation to all records and information.
Ensure the validity and accuracy of all documentation.
Make available all relevant documentation, policies and certificates, endorsements, and premium calculations as may be required.
Be professional, efficient and responsive in all dealings.
In the event of a claim, take every step necessary to ensure prompt and fair settlement.
Work towards maintaining and enhancing the reputation of NIBA and its members.
Act in the spirit of the Code and encourage others to do likewise.
To obtain a copy of the Code, click here.
Austbrokers Terrace is also a member of the Australian Financial Complaints Authority (AFCA). As part of the Code obligations, we are committed to the fair, transparent and timely resolution of disputes. If you are unhappy with any of our services please lodge your complaint in writing or contact our complaints Manager – Rob Morrell. You can also lodge any alleged breach of the Code with us.
We will acknowledge your complaint in writing and genuinely attempt to resolve your complaint fairly and efficiently within 20 days through our internal disputes resolution system.
Specific contact details are as follows:
Mr Rob Morrell
Austbrokers Terrace
Phone 08 8238 9200
Email robm@abterrace.com.au
We will keep you informed about how we handle your complaint and provide you with reasons for our decisions. If we require further information to determine or resolve your complaint, then we will inform you of this and agree with you an appropriate time frame, keeping you informed of the progress.
If your complaint cannot be resolved to your satisfaction within 20 business days, you have the right to refer the matter to the  Australian Financial Complaints Authority (AFCA) for further consideration and/or review. AFCA is an ASIC-approved external dispute resolution service accessible to clients free of charge.
AFCA contact details are as follows: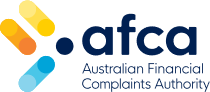 POST: GPO Box 3 MELBOURNE VIC 3001

PHONE: Toll Free: 1800 931 678

EMAIL: info@afca.org.au

An online complaint form is also available at the AFCA website at www.afca.org.au