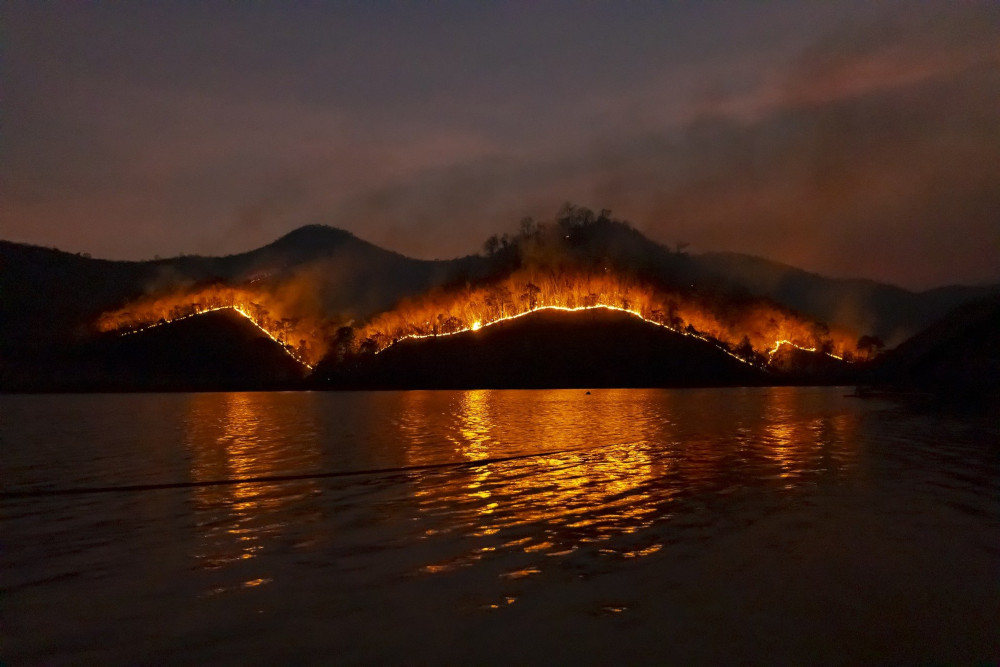 Grass and crop growth in south-east Queensland and northern NSW, along with plentiful grass and dry soil in the north of WA, are creating above normal fire potential conditions in those areas as Australia heads into spring.
Elsewhere in the ACT, most of NSW and Victoria, the spring potential for fire is below normal as vegetation slowly recovers from the summer 2019 bushfires.
"While most of Australia shows normal bushfire potential during the spring outlook period, destructive and deadly fires can still occur," the Australasian Fire and Emergency Services Authorities Council (AFAC) said.
"The tendency for fire seasons to have elevated danger more frequently – and for elevated fire danger to occur earlier and later in the season – is a clear trend in Australia's climate," the AFAC Outlook said, adding that reflected less reliable April to October cool season rainfall in southern parts of the country and rising temperatures.
This year has so far seen above average rainfall, except central coast Queensland and an area of south-east SA extending into western Victoria and south-west NSW.
Recent rainfall has resulted in average-to-above average soil moisture and stream flows across large parts of eastern Australia and the rainfall outlook for September to November shows that a wetter than average spring is likely for most of the eastern two thirds of Australia, except western Tasmania.
That wetter outlook is likely to end in November or early December.
The Bureau of Meteorology said today that after the wettest winter since 2016, spring is likely to bring above average rainfall for people living in the east of the country as well as cooler days and warmer nights, though the outlook remains dry for those living in WA and spring days are tipped to be warmer for the Top End and Tasmania.
Australia's average winter temperature was expected to be one of the ten warmest on record, particularly in the tropical north, Bureau climatologist Andrew Watkins said.
Following is the spring fire potential outlook by state:
NSW
Forested areas may see a delayed start to the fire season as forest fuels take longer to re-accumulate than grass land, though with strongly favourable signal for above median rainfall in grassland areas west of the ranges and south of Sydney, rainfall and warmer spring growth may see grass and crop fuel loads build during spring.
ACT
It is predicted the ACT will continue to receive above average rainfall throughout spring, with above average overnight temperatures. Normal fire potential for grasslands and below normal fire potential for forested areas is forecast given sustained and increased fuel moisture conditions from increased rainfall, and as a result of forest areas burnt in the 2019-20 fire season.
Victoria
The north-west and west of the state may see an increase in fire potential later in spring, prior to harvest, though the fire season is expected to be below normal across the eastern, north-east, central ranges and Otway ranges. The Gippsland fire season is likely to commence in early summer. Higher soil and fuel moistures in many forests may promote opportunities for planned burning.
Tasmania
The south-west is being closely monitored for the possibility of increased fire potential should rainfall deficits increase. Fuel conditions for the remainder of the state are considered normal and so the overall assessment is for normal fire potential for spring.
SA
SA could anticipate some sizeable grass fires due to good growth conditions heading into spring and early summer, though the current outlook is more positive for the start of the fire season than some recent years.
Queensland
Milder conditions and the probability of above median rainfall across the state will likely result in continuation of the favourable conditions for new grass growth and a slight increase in localised areas of grassland fires across many areas.
WA
Normal fire potential is expected throughout the south of the state for September-November .
NT
Current fire season activity and forecast early onset rains indicates normal fire potential for all regions through to December.
As the fire season approaches take the time re-visit not only your bushfire/fire evacuation plan but your insurance policies. Austbrokers Terrace are here to listen and advise.
Source: Insurance News