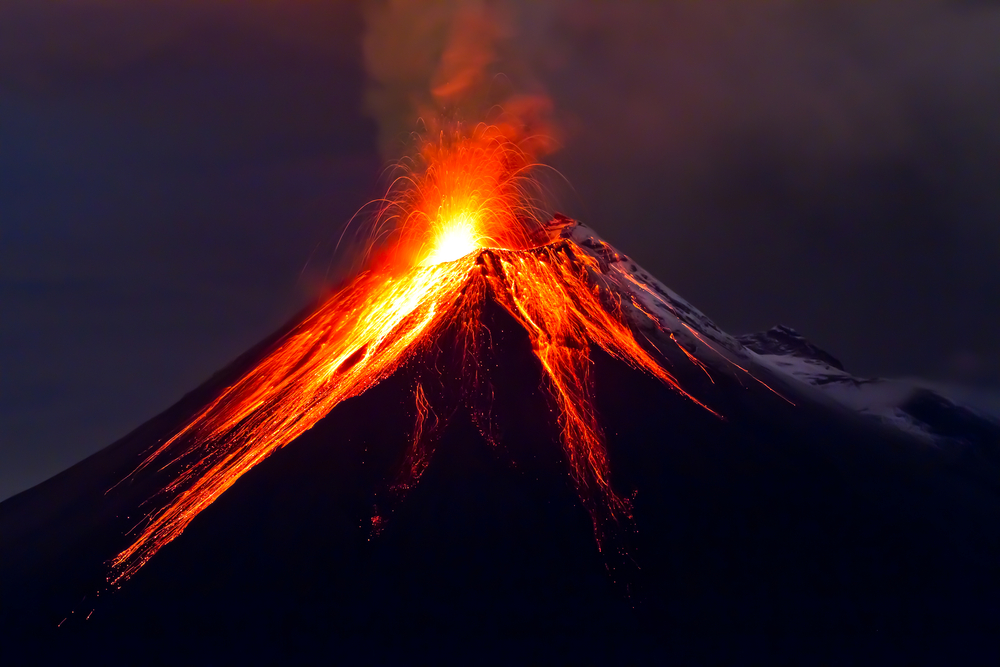 Eruption of Mount Sinabug in North Sumatra, just under 2,000 miles from Mount Agung in Bali.
The photographs of the eruption were taken from Tiga Pancur village in Karo on the Indonesian island of Sumatra. 
The latest images of volcanic eruption come after hot lava was pictured spewing from Mount Sinabung last week. 
Mount Sinabung has remained highly active since erupting in 2013 after roaring back to life in 2010 for the first time in 400 years. 
Evacuees have been told to stay at least 7km away from the volcano, which killed 10 people when it erupted earlier this year. 
David Rothery, Professor of Planetary Geosciences at The Open University, said that two of the images "show what looks to be pyroclastic flow descending the flanks of the volcano". 
He said: "This has happened many times in recent weeks and months, so this is nothing new.  Pyroclastic flow is dangerous to approach."
Indonesia's National Disaster Mitigation Agency (BNPS) spokesman Sutopo Nugroho shared images of the latest eruption. 
He said the Volcanology and Geological Hazard Mitigation Center (PVMBG) was continuing to monitor volcanic activity.  
Mount Sinabung is located just under 2,000 miles from Bali's Mount Agung, which is has been under a high alert for more than a month. 
Both volcanoes sit on the Pacific Ring of Fire, which is the world's most active earthquake belt and home to about 450 volcanoes. 
Mount Agung remains under a volcano alert and tens of thousands of evacuees are still staying in refugee camps. 
The volcano's alert status was downgraded from level four to level three on Sunday, after the amount of seismic activity dipped. 
But the head of Bali's Volcanology Centre (PVMBG) has warned that the threat of an eruption has not yet passed.
"The volcanic activities have not completely calmed down and there is still a potential for an eruption," he said.
Many Bali volcano refugees have returned to their homes in Mount Agung's danger zone to mark the festival of Galungan which runs until November 11.
Made Dwi, from Besakih village, told Antara News: "Prayers are being held at the family temple, the village temple, and other various temples.
"Some people have returned home and stay in each other's homes, but there are still many in the refugee camps because their neighbourhoods are still in disaster prone spots."
Source: express.co.uk