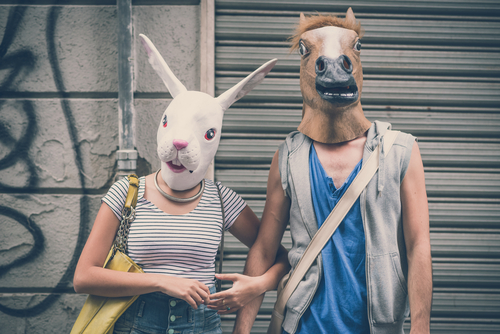 Bad balance!
A 12-year-old Taiwanese boy who accidentally tripped and fell, punching his fist through an antique painting valued at $2.1 million, has joined a growing list of art fumblers keeping insurance companies busy.
The trip, which looked like something out of a Charlie Chaplin movie, saw the boy stumble over the rope barrier intended to protect the artwork, and to keep his balance he put his hand out, inadvertently punching a hole through the 350-year-old canvas.
The artwork is a 17th century oil on canvas work called Flowers by Paolo Porpora and is part of an exhibition being held at the Huashan 1914 Creative Park in the Taiwanese capital Taipei called Face of Leonardo: Images of a Genius.
The CCTV footage which captured the incident shows the boy looking up at the canvas before nervously looking around the room for help.
Luckily for him, the organisers are not going to ask the boy's family to pay for the restoration costs, according to Focus Taiwan news.
It said the exhibition organiser, Sun Chihsuan, said the boy was very nervous but should not be blamed and the painting, which is part of a private collection, was insured.
However, a post on the exhibition's Facebook page outlining how rare and precious the paintings are said: "Once these works are damaged, they are permanently damaged."
The Porpora work was painted in 1660 with its age making it particularly fragile.
The boy is not the first to fumble his way into art restoration history, according to The Guardian.
In 2006, a man tripped over his shoelace in the Fitzwilliam Museum in Cambridge, UK, smashing three 300-year-old Chinese vases.
In 2010, a woman at the New York Metropolitan Museum of Art fell into a Picasso, causing a 15cm tear.
Another work by Picasso suffered perhaps the most egregious blunder by casino mogul Steve Wynn who elbowed the artist's 1932 masterpiece Le Reve. However, he still managed to sell it in 2013 for the record sum of US$155 million.
In 2012, a Dublin man was sentenced to six years in prison for damaging a Monet painting in Ireland estimated to be worth $15 million.
Andrew Shannon, 49, pleaded not guilty, saying he had been dizzy and fallen forward, causing him to punch through Argenteuil Basin with a Single Sail Boat, painted in 1874 by the French impressionist.
It took 18 months to restore the artwork, which is now back on display at the National Gallery.